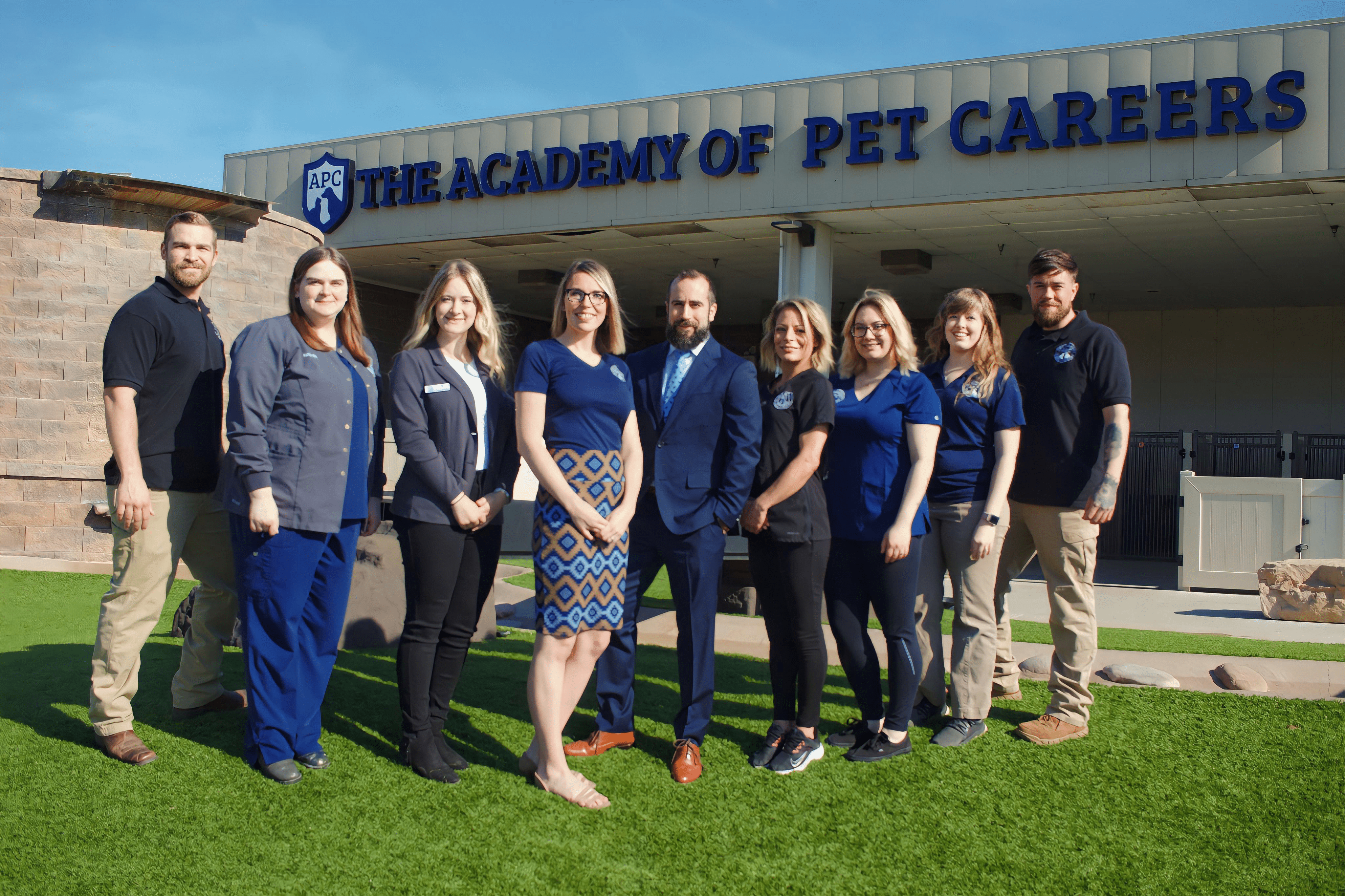 Elyse Lederer (B.S.) - Veterinary Assistant Instructor
Bachelor of Animal Sciences (University of Missouri, Columbia)
Fear Free™ Certified Veterinary Professional
RECOVER CPR Certified, BLS and ALS
Elyse Lederer is the instructor of the Veterinary Assistant program at the Academy of Pet Careers. At the University of Missouri, she studied animal physiology and the science of human-animal interaction. She has worked as a veterinary assistant for eight years, exploring every corner of the industry. From zoo medicine to emergency critical care, she has a wide range of experiences and connections to share with students looking for a lifelong, rewarding career in veterinary assisting.
Elyse's personal pets include a menagerie of special-needs animals, including her dogs Smudge and Belladonna, her cat Haku, her lovebird Aussie, and her ball python Suki. In her free time, Elyse loves all things fiber art- from crochet to tapestry weaving. With a passion for hands-on learning, she looks forward to bringing new professionals into the veterinary field.
Kaitlin Waite - Dog Training & Behavior Instructor
Kaitlin began working under a professional dog trainer at the young age of 14 when 4-H first introduced her to the world of dogs. Kaitlin went on to obtain a bachelor's degree in Agribusiness in Animal Science/Pre-Vet at the University of Central Missouri. Kaitlin then started her own business where she trained a variety of dogs in various activities. She has trained dogs in Obedience, Tricks, Freestyle, Service Dogs, Agility, Disc, Dock Diving, Bikejoring, and Manners. Her favorite things to teach are Tricks!
Kaitlin's personal dog has competed in a variety of sports and serves as her Demo Dog for her classes. Her dog, Radical Ruger, has been in multiple commercials and ads for companies like Purina, Bayer, Tropiclean, and many others. In her spare time, Kaitlin enjoys competing with her dog, going to pet events to perform trick shows, and showing off Ruger's 107 tricks to whoever will watch! She loves showing how positive reinforcement can be used to teach your dog to anything—and love doing it!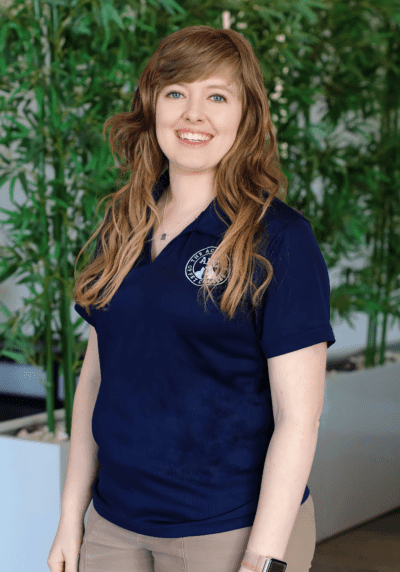 Eric Stull - Dog Training Instructor
Canine Training & Behavior Specialist (Starmark Academy)
Eric is a nine-year veteran of the Marine Corps and Army, who after leaving the military, has dedicated himself to understanding canine behavior. Attending multiple training schools lead to opportunities within the fields of obedience, behavior modification and rehabilitation, patrol canines, protection disciplines, and mobility service dogs. Eric's two dogs, Louis (Belgian Malinois) and Vega (Australian Shepherd), combined skills include agility, dock diving, trick training, obedience, explosives detection, tracking, and protection sports. Through his experience and course work, Eric's training journey has helped him find his passion of coaching handlers to provide healthy lives for their canines by communicating with creativity, consistency, and mastering motivation.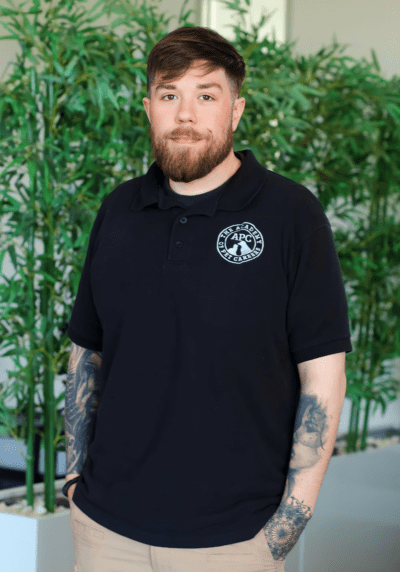 Jackie Brumfield - Pet Grooming Instructor
Certified Canine Esthetician
Canine Massage Certified
Jackie began her grooming career in 2005. With over 10 years of experience as a groomer, she is a great addition to The APC instructor team. She is Fear Free certified and is a great leader in encouraging others to continue their education. Jackie is currently working towards her Master Certification through the International Professional Groomers.
Jackie is the first instructor that Grooming Students get to interact with and she is a warm welcome and the perfect fit to introduce new groomers to the industry!
Gabbie Lacoste - Pet Grooming Instructor
In 2016, Gabbie began her career working with animals at a veterinarian hospital based out of New Iberia, Louisiana. From there, she moved to Jacksonville, North Carolina and began working at a grooming salon in which she fell in love with. Since then, she has gained years of experience working in multiple grooming salon settings and has been a salon manager since 2020. She enjoyed educating and leading her grooming team towards success.
Gabbie is very passionate about the art of grooming and being able to transform pets into feeling and looking their very best. With her positive attitude, she is sure to create a warm and welcoming learning environment for each student. She considers her career in grooming to be most rewarding and is eager to share her experience with new students in a pet empowerment environment!
Jennifer Schifano - Director of Admissions and Student Services
Jennifer started working in the Pet Care Industry at Petropolis Pet Center, Chesterfield, as Customer Service Manager in 2015. When the role of Director of Admissions was available for the APC, she jumped at the opportunity to work with two passions of hers: people and pets. She focuses on creating a professional relationship with students before, during and after their schooling to help them succeed.
Jennifer helps students with the exit process and finding a job. While managing the Alumni Program and Seminars at the APC, Jennifer is involved in every stage of the student lifecycle. She is on the Board of Advisors for South County Technical High School and holds a membership with the MOCAC.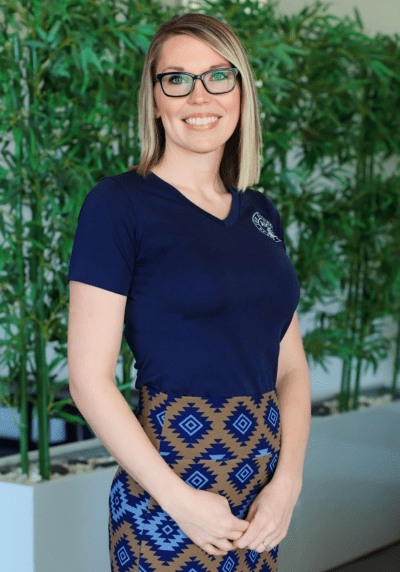 Addi Harrison - Admissions Specialist
APC Specialized Dog Trainer (APC-SDT)
APC Animal Behavior Certified
PetTech CPR and First Aid Certified
Non-degree diploma in Companion Animal Nutrition (SIUC)
Addi grew up always having dogs, but in 2020, she got her first dog that she could call her own. Her pup, Kona, inspired her love for training dogs and her love for the pet industry. Kona can do a variety of skills such as basic obedience, service dog skills, scent work, etc.
Addi graduated from Southern Illinois University Carbondale in May 2022 earning a Bachelor's in English, while also having a minor in Psychology and participating in SIU's Companion Animal Nutrition course. After graduating, she quicky relocated to St. Charles to attend the Academy of Pet Careers.
By October 2022, Addi graduated from the training program at APC, earning an APC-SDT and APC Animal Behavior Certification. Addi wanted to be a part of the admissions team to help others find their passion in the pet industry and set the industry up for a better future!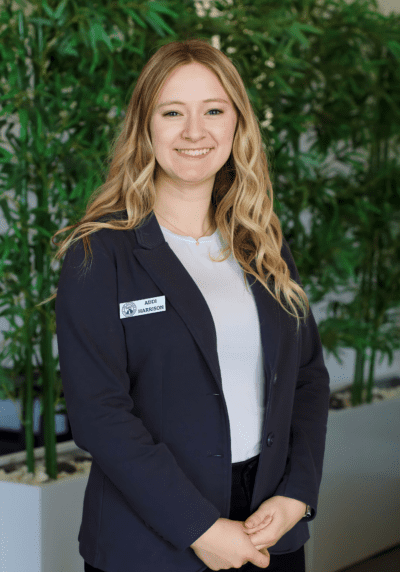 Joseph Schifano - Owner/President
Joseph Schifano is the President of The Academy of Pet Careers. His experience in the pet care industry spans 2 decades. As a third-generation owner/operator of Petropolis Pet Resort, Joseph has experienced every aspect of managing a pet business, from caring for the dogs to marketing and sales.
Above all, his goal is to educate pet professionals on how to provide a more empowering experience for their pets and how to succeed in this ever-changing industry.
Joseph graduated with a business degree from Elon University and joined the leadership team at Petropolis. His focus on business strategy, combined with his love for animals, has allowed him to successfully run a pet service business that earns seven figure revenues per year and has earned the following recognition:
"Best Large Pet Hotel in The Nation" – Groom and Board Magazine
"Future 50 Business Award" – St. Louis Small Business Monthly
"Best of St. Louis" – River Front Times