Do Dogs Like Hugs? Getting Consent to Pet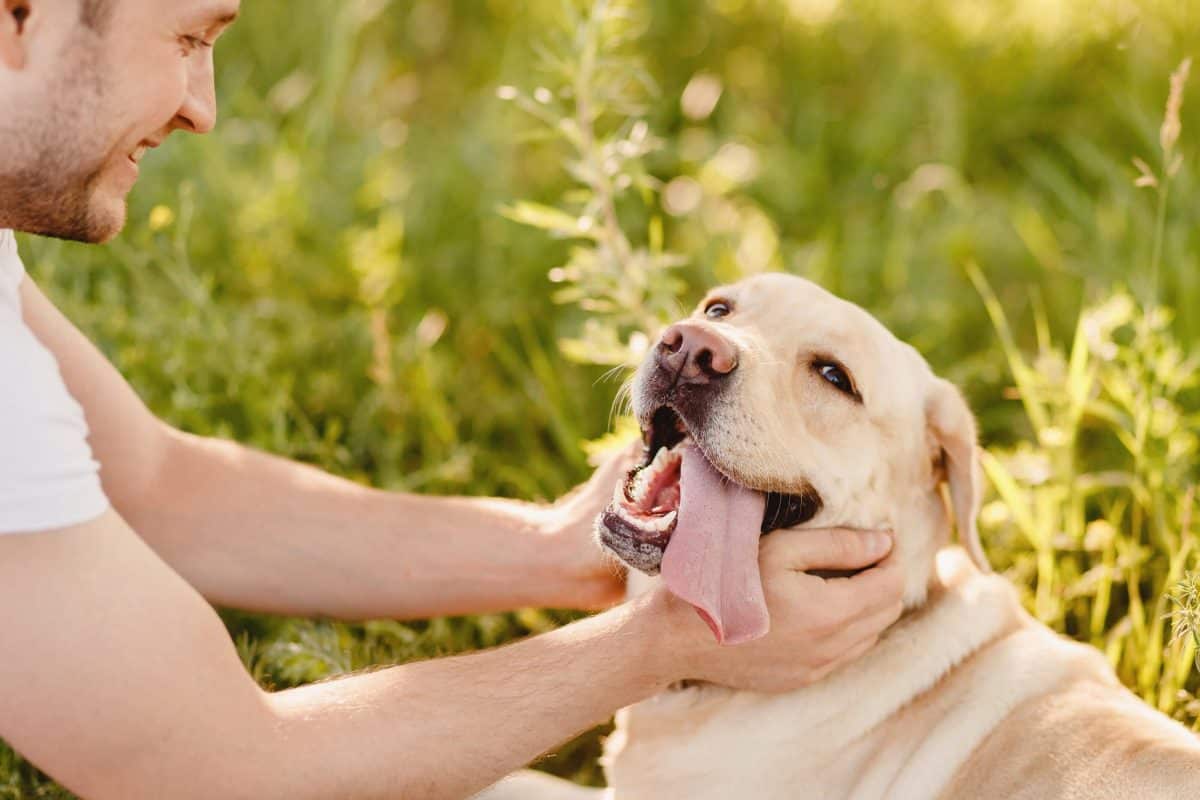 If you're a dog lover, you probably love to pet and cuddle your dog. And maybe every dog you meet. But does the dog want pets and cuddles? Often the answer will be "yes." But sometimes, the answer will be "not right now." And for some dogs the, answer may be a resounding "no thank you!" Why would a dog not just walk away if they didn't wish to be pet? Well, because it can be scary or rude to move when something is touching them. I've seen many dogs sigh in relief and move briskly away as soon as contact has stopped. That tells us they did not enjoy the petting even if the person did. So how can we tell the difference? We need to allow the dog to participate in the conversation.
What? Have a conversation with the dog??? Yes! Here's how:
When first meeting a new dog, don't rush into their personal space. Instead, you should stop 3-5 feet away from the dog and invite them to you. Stand in profile or squat down in profile if it's a little dog. Keep your hands to yourself. I know this is different from what we've all been told. But if you think about what that must be like – to have a total stranger push their hand right up to your face – that can be very uncomfortable, especially for a nervous dog. If I'm standing up, I just keep my arm at my side. I might pat my leg and speak softly, inviting the dog to come closer if they wish. If I'm squatting, I'll rest my forearm on my leg, so my hand is dangling from the wrist just off my knee.
If the dog is interested, he'll come closer to take a sniff. And if he wants contact, he'll touch you. Once you are petting the dog, stop touching after 3-5 seconds and let the dog tell you if they're done with this interaction. If they are, they'll walk away. if they're comfortable near you, but maybe had enough petting they'll stay nearby, but not look at or touch you. Or if they really want you to keep petting, they'll nudge you and make contact again. I've had several dogs reach out and pull my hand right back to their chest so I would continue petting them. By letting the dog participate in the conversation, we ensure that they're comfortable with what we're doing, and we will know better when to stop.
This conversation is important to have with our own pets as well. Just because they love us doesn't mean they always want contact. Especially during highly focused activities such as training sessions. So even with our own dogs, we should interrupt contact periodically and let them tell us if they want us to continue or if they were ready to do other things.
Happy petting! I mean, CONVERSING!

Author - Jody Epstein
Jody Epstein is a certified behavior consultant, certified professional dog trainer, and holds a master's degree in animal behavior from Tufts University. She has been training professionally for more than 12 years and is pleased to be part of the Academy of Pet Careers team, teaching the next generation of trainers. Look out for her blogs on all things dog training and animal behavior.