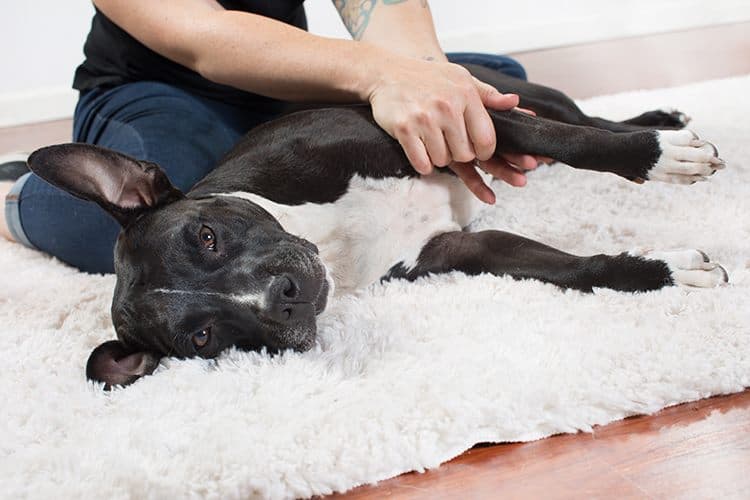 Massage is beneficial for dogs of all ages and sizes. Using techniques at home can build the bond between pup and parent. Dog massage can play an important role in the emotional and physical well-being of your dog! Learn more about massage classes below.
About Dog Massage Classes
Classes are taught by Ash & Oak Canine Massage, St. Louis' only dog massage expert.  Learn about simple massage techniques to maintain your dog's overall health. Classes are 1.5 hours long, and dog attendance is optional. Watch as Alyson demonstrates the basic tools of massage. Regular massages with your dog can help to reduce anxiety, detect potential health issues, and provide ongoing support for aging pups. In addition, classes will cover important canine behavior cues and how to better communicate with your pet. This will help reduce stress when handling your dog, build trust, and create a relaxed environment for all involved.
Alyson Snelling – Instructor
After spending 20+ years in advertising, Alyson Snelling went after her life-long dream of working with animals. In 2015, Alyson gained her certification in Canine Massage Therapy, and Pet CPR through the Chicago School of Canine Massage. She is Certified by the National Board of Certification for Animal Acupuncture & Massage (NBCAAM). In addition, she is an attuned Animal and Human Reiki Practitioner. Alyson is also involved with several local rescue groups as both a foster parent and volunteer. She dedicates her time to growing her knowledge of canine massage, holistic modalities, and animal behavior. Her goal as a Canine Massage Therapist is to provide comfort and healing to those in need. In addition, she hopes to help educate parents on maintaining a healthy lifestyle for their pets.