Introducing: APC Give Back Days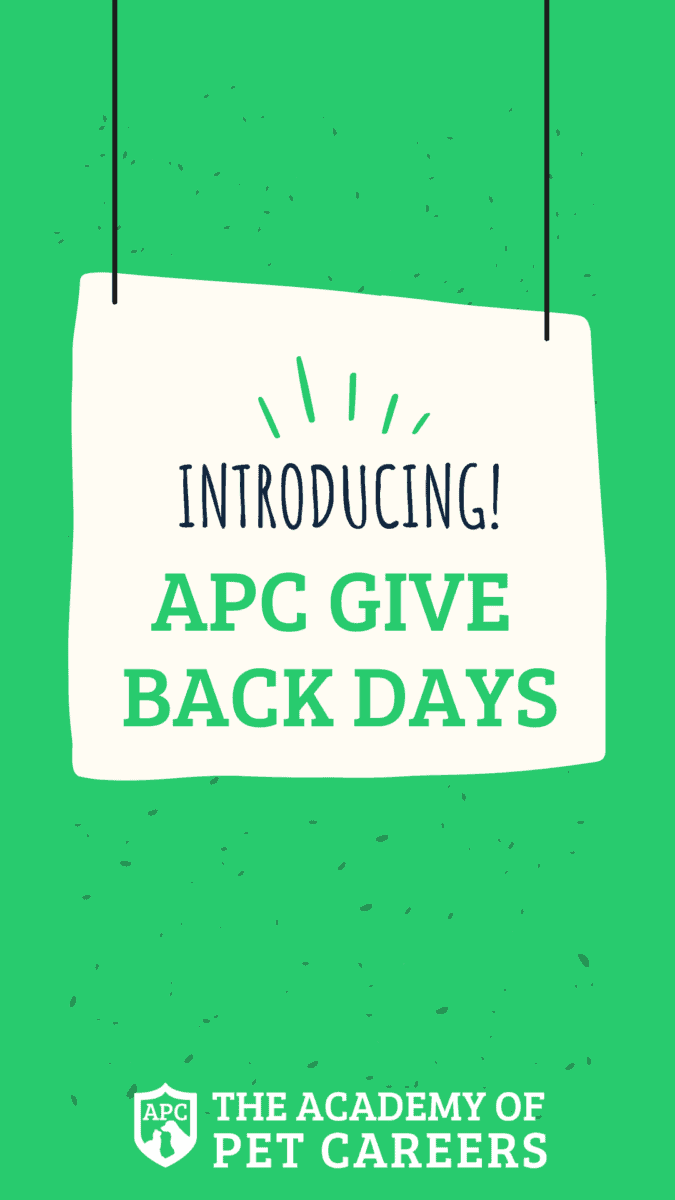 ST CHARLES, MO – December 4, 2022 – The Academy of Pet Careers is committed to helping the people and pets in their community. Our Staff and Students have a huge heart for the pets and the people around them, so we have developed APC Give Back Days!
Our way of making this happen, is to shut down regular operations twice a year and send our Staff and Students out with opportunities to give back! We will pause classes, meetings, and the regular day-to-day, in order to focus on helping others.
We have a unique position as a school for "Pet People", so we will be not only be serving the local pet community, but we will also bring in the human side of it too.
For the People
We are hosting a Blood Drive in partnership with KSHE Radio and ImpactLife. The previous drive that we hosted in July broke a record for our area and had over 394 donors! Did you know that every 2 seconds in the United States, someone needs blood from a donation? This huge need has us wanting to do our part to help!
Sign up to donate here: https://blooddrive.kshe95.com/
For the Pets
We are teaming up with Five Acres to volunteer our time with Grooming, Training, and Veterinary Assisting tasks. Each career field will be using their hands-on education to provide care and assistance to shelter pets. Groomers will have the chance to shave matted animals, bathe them, and trim nails. Trainers will meet the shelter dogs and help them with training, socialization, and play. Veterinary Assistants will administer meds, heartworm tests, and in some cases assist in Spay/Neuter clinic. This partnership with Five Acres is such an incredible opportunity for our students to give back to the pet community.
We want to thank the organizations that we are working with! We couldn't do this without you!
We are so excited for our first Give Back Day on December 9th! Helping, both, human and pet lives ❤
Details for Students
Meet at Five Acres at 8:30 am or 11:30pm on December 9th. (slots in the RSVP)
Wear your APC T-Shirt/Scrub top.
Waiver must be filled out online, and you must RSVP here.
If you would like to donate blood, sign up for opposite time or your RSVP'ed slot on 12/9 or any time 12/10.
The Academy of Pet Careers has been educating pet professionals in St. Louis for 26 years. Students can choose between 3 career paths, pet grooming, dog training, and now veterinary assisting. Students will also be able to dual certify in any 2 of the 3 programs to better specialize their skills to contribute to the growing field.
To learn more about how to get started, please contact the APC's admissions director, Jennifer Schifano at [email protected] or call (636)778-4989.