Service Dog vs Therapy Dog: What Is The Difference?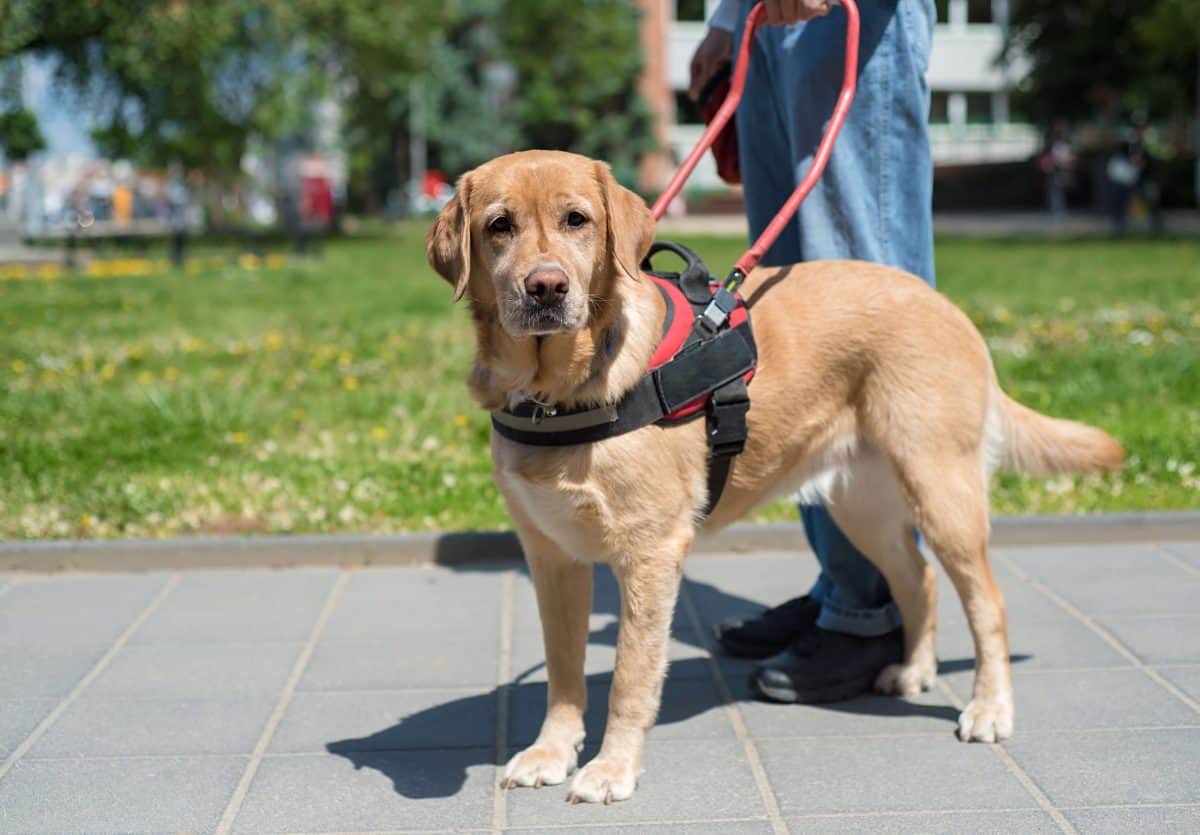 There is a lot of confusion about what makes a dog a Service Dog, and what it means when a dog holds this role. Let's take a moment and clarify the differences between Service Dogs and Therapy Dogs.
What Is A Service Dog?
According to the Americans with Disabilities Act (ADA), dogs are the only species that can be a service animal. The official definition says a service dog is,
"Any guide dog, signal dog, or other dog that has been trained to provide assistance to an individual with a disability."
In other words, it is not simply a pet that provides comfort to it's owner. It's also not just a well behaved, well trained dog that is polite in public. A service dog has been trained to a high standard to perform specific skills. Such skills allow people with mental or physical disabilities to live more independent lives.
These dogs are not considered to be pets. In fact, they are considered to be durable medical equipment. Service dogs are allowed ready access to all public spaces, without question, including work spaces, restaurants, hotels, grocery stores and everywhere in between. Furthermore, individuals with a service dog cannot be denied housing due to their service dog. Even if housing is declared to be "pet free" or "no pets allowed", they have the right to be there.
Read about 10 Types of Service Dogs and what their specialty skills include.
What Is A Therapy Dog?
Conversely, a Therapy Dog is a companion animal whose person has decided to engage in comforting activities with others. Therapy dogs are generally calm in temperament, enjoy being around people and have demonstrated good basic obedience and public manners. Many businesses (e.g. schools, hospitals, retirement facilities, airports, courthouses – to name a few) utilize therapy dogs to provide comfort for residents, students, or others participating in activities at those locations.
Entities that have therapy dog programs will set their own standards for qualification. There are some national organizations, such as Therapy Dogs United, which can certify therapy teams (dog and handler) and then match them with appropriate participating facilities.
Under the ADA guidelines, therapy dogs are considered pet dogs. They are not allowed the same general public access as service dogs. Instead, they need permission to be at the facility where they are providing support. Further, because they are considered pets, therapy dogs do not earn a waiver for 'pet free' housing access.
Learn more about Therapy Dogs vs. Emotional Support Dogs.

Author - Jody Epstein
Jody Epstein is a certified behavior consultant, certified professional dog trainer, and holds a master's degree in animal behavior from Tufts University. She has been training professionally for more than 12 years and is pleased to be part of the Academy of Pet Careers team, teaching the next generation of trainers. Look out for her blogs on all things dog training and animal behavior.