Talking to Owners About Behavior Problems In Grooming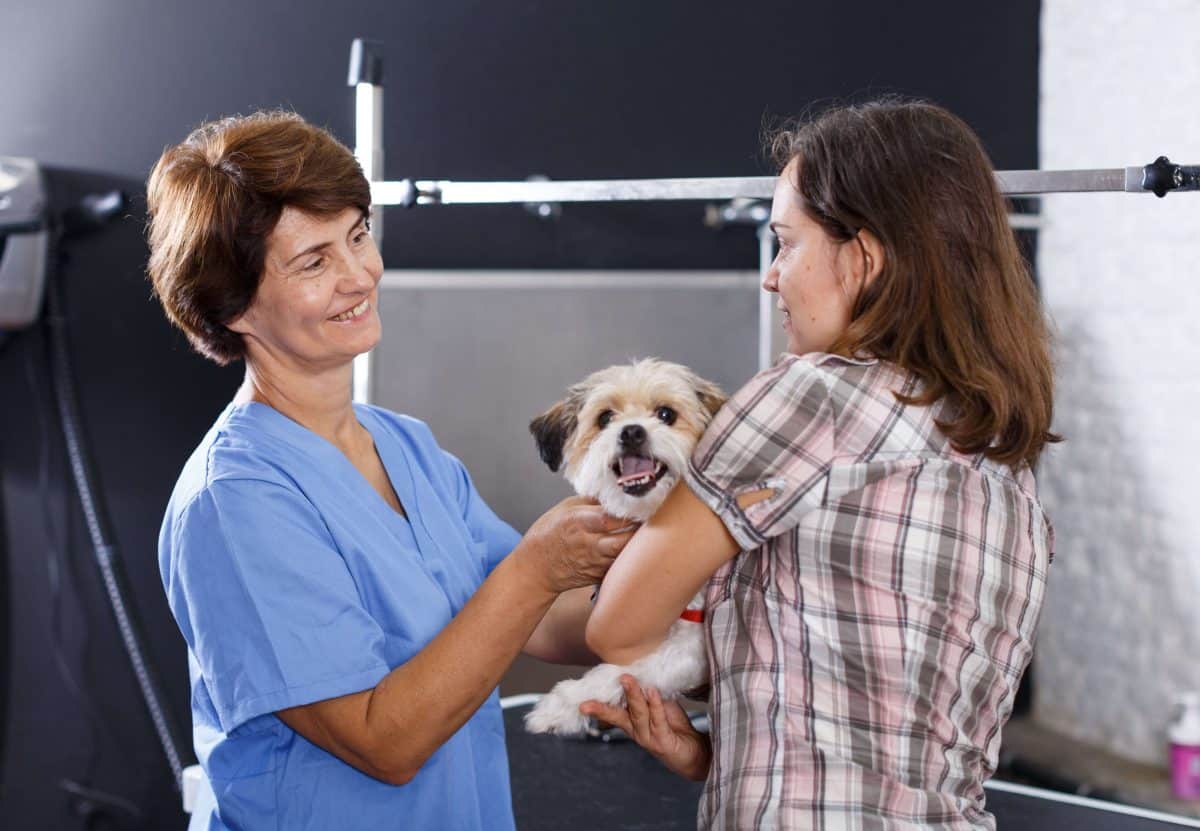 When we're grooming a dog who is stressed, scared, aggressive, or even overly silly the risk of an accident or injury goes up. For many years the grooming industry has completed trims and grooms on dogs without doing much about the behavior problem. It's common for our customers to think that it's our job to "just get it done".
When your customers are used to you being able to push a dog through a grooming it can be difficult to explain your new outlook and procedures. Many groomers feel like they'll lose a customer if they start talking about working on the behavior instead of trying to get perfect trims "no matter what".
I recommend starting with a safety policy. This will make it clear to your customers that your new protocol is to keep everyone safe. You may need to explain that any tool that cuts hair could possibly injure a dog and that their dog will be groomed many times over their lifetime.
Taking time to help the dog be Calm, Comfortable, and Cooperative will make it easier to groom the dog throughout all of its life stages from puppyhood and adolescence all the way to their senior years. It'll make their dog easier to handle at the vet's office and make it easier for owners to care for their dogs at home.
We now know a variety of ways to teach dogs to be comfortable for grooming. There are a variety of professionals that can help with this problem. This is for safety. As a groomer it may be you working on the dogs grooming behavior over many short appointments. It could be a trainer or behavior consultant that you send the owners to for help. It could be some owner homework to build new skills. You may find that the owners have accidentally created the problem.
My safety policy may work for you or you may want to change it to suit your specific needs.
Safety Policy
"To provide the highest level of care for your pet we have a safety policy. If at any time your pet gets nervous, anxious, scared, aggressive, or even overly silly, we slow down and help your pet to be comfortable and calm. It's very important to us that the pets in our care are kept safe and stress free. We use sharp tools and need to prevent injuries. We will work with your pet to help them feel comfortable. This will build a great experience for successful groomings for your pet's lifetime. Your pet may not be groomed to perfection today. We will charge for the time that we spend working with your pet. We are committed to safety."
Author - Chrissy Neumyer Smith
Chrissy Neumyer Smith CPG, CBCC-KA, CPDT-KA has been working with dogs since 1986 when she got her first internship for her Animal Science major at Essex Agricultural and Technical Institute. She started Happy Critters Dog Training in 2000 providing house call grooming and private dog training in the Nashua NH area. As a groomer, behavior consultant, and trainer she understands the unique needs of the grooming setting.
She started the Creating Great Grooming Dogs Podcast in October of 2018 to help groomers, trainers, Veterinarians, Veterinary Technicians, owners, and all other dog pros to teach dogs be good for grooming, vet visits, and other types of husbandry. She lives with 2 border collies who are addicted to flyball.