Dog Grooming School in Missouri
The dog grooming school at The Academy of Pet Careers is one of the top rated schools in the area. There are many ways to become a dog groomer but none of them as comprehensive as hands-on, practical dog grooming courses. Our dog grooming courses ranging from 4 weeks to 15 weeks, and you could be in your 'fur-ever' career in a matter of a few months.
All our dog grooming certifications are designed with your personal goals in mind. Students may only go as far as learning maintenance grooming, so they can go work for a kennel or shelter. Others may desire to be professional stylists who can do breed specific trims, making them an asset to any salon. Below are details on each of the skills taught in our dog grooming courses. Become a dog groomer and you can master the following...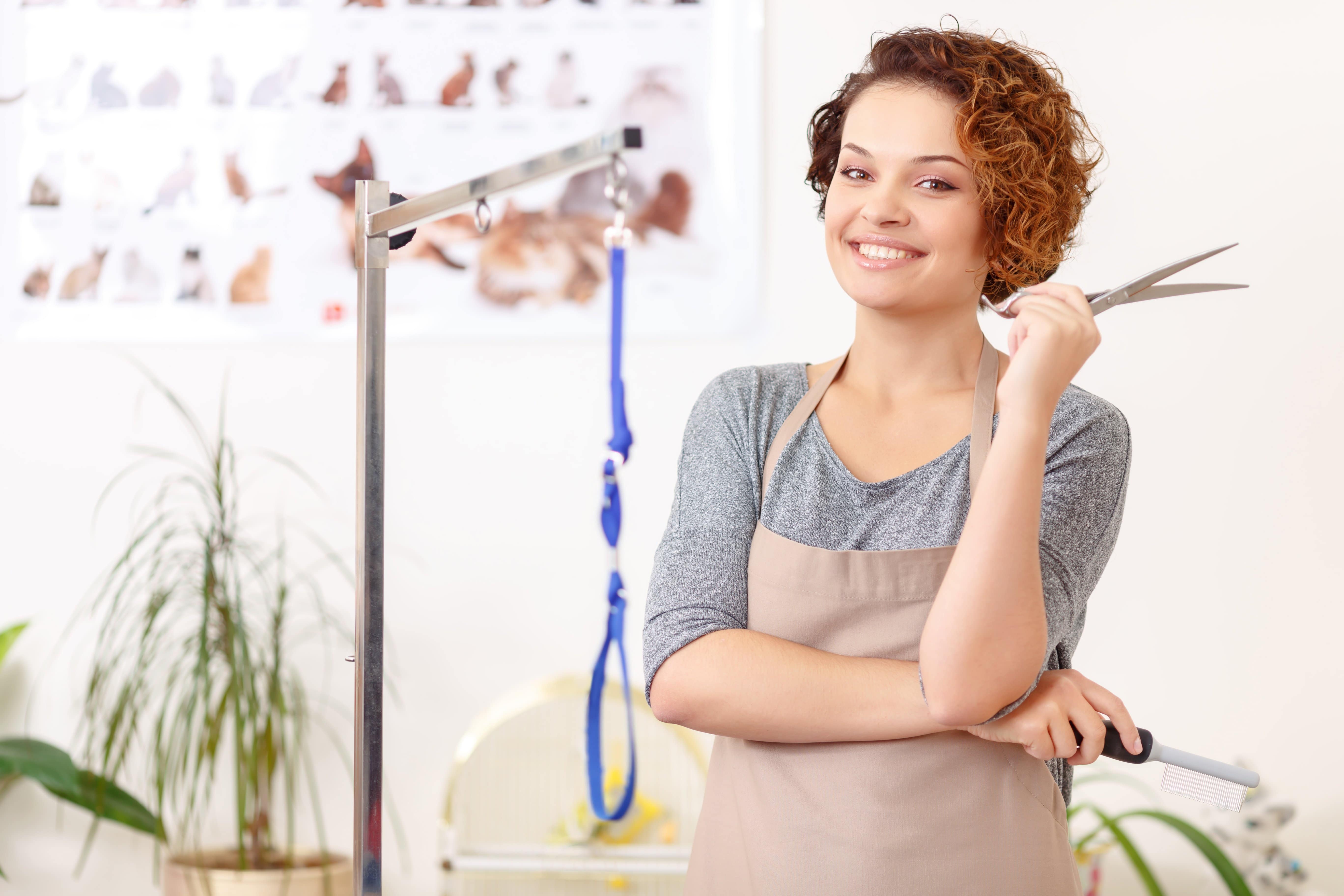 Become A Dog Groomer Today!
If you are wondering how to become a dog groomer, call us today or book a school visit.
Learn The Following Skills...
Bathing / Brushing
No dog grooming class can be complete without learning the fundamental skill of bathing and brushing. This is one of the most important skills to become a dog groomer. When bathing a dog, you are creating the foundation for the rest of the groom. You must understand the skin and coat and what products to use to get the optimal results This includes how to recognize health issues.
Maintenance Grooming
The majority of dog breeds don't get breed specific trims. That is why our grooming classes put an emphasis on learning maintenance grooming skills. Dog groomers require this core skill. From outlines to full body shaves, maintenance grooming can be done on any dog. Mastering these skills will make you a valuable asset for any salon, kennel, or day care.
Style / Breed Trims
Most dog groomers that come to our school aspire to be the best. They appreciate the value of quality over quantity. These grooming students will go through our professional grooming course and learn how to do breed specific styles that can help them show off their skills as a groomer and help them make more money.
Applied Animal Behavior
What makes our academy of dog grooming unique is the focus put into understanding the dog and applied animal behavior. Our students learn how to make the grooming experience more enjoyable for the pets, creating happier customers. This sets students up for success in their pet business.
Bather/Brusher
25 Days
Canine Communication Skills

The Science of Skin and Coat
Professional Groomer
100 Days
Everything In Bather/Brusher

Puppy, Kennel, and Outline Trims
Reasons to Become a Pet Groomer
Pet Contact
Dog groomers get to be hands on pets more than any other career in the pet industry.  Unlike training, lodging, daycare and veterinary services, a dog groomer's fundamental role is to handle the pets in their care.  This is a unique benefit that attracts so many to the field. If you love pets, there isn't a more rewarding career than becoming a dog groomer.
Expressing Your Creativity
Great dog groomers are creative and artistic, and once you learn the fundamentals of grooming, you will then enter the area of artisan.  Ultimately, skilled groomers are measured by what they can achieve using scissors.  As you master your scissoring skills you will soon find your artistic skills exposed. Each pet you groom is a new canvas and your imagination is your only limitation.
Tips
Skilled groomers will create a community of clients.  These clients will continue to come back only when they feel trust and value the service that you provide.  When they do, tipping is a typical expectation and tips can become a significant part of your dog grooming income.  Pet grooming is the only profession in the pet care industry where tips can generate such high financial rewards.
Start Your Own Pet Business
Look around your community and visit a few salons.  You will soon discover that business ownership continues to be a valued opportunity for dog groomers.  If you desire to be your own boss, being a groomer offers many opportunities to own their own businesses from mobile grooming to opening your own shop. Alternatively, there is a high demand for qualified groomers if you are interested in a stable career with less obligation.
How Much Do Pet Groomers Make?
Depending on career goals, pet groomers can make a wide range of wages. A starting wage for a bather/brusher can be between $8-$12 per hour in our area. Skilled groomers who can trim and style dogs can start around $15 per hour and make up to $30 per hour. These numbers can vary based on your location but the national average for a pet groomer, excluding tips, is between $15-$20 per hour. Most grooming students that graduate from our dog grooming school will have the ability to do full trims and will be ready to start a career as a pet groomer.
Dog Groomers also make a significant portion of their income in tips. It is one of the only professions in the pet care industry where tips are expected. Groomers with a loyal following can make an additional $5,000 - $10,000 per year in tips alone.
Dog Grooming School You Can Trust
You deserve to learn from the best, so our dog grooming school offers the most comprehensive dog grooming certification in the area. Our education is designed to help you succeed. We want nothing more for you to graduate, get a job, and thrive in a career you will love. Our curriculum was created to make you more desirable to employers. As a student you will learn so much more than how to bath and trim. You will learn about health and nutrition and their effects on a dogs skin and coat. You will also learn how to read dog body language so you can better manage stressed pets.
Our grooming programs have met the standards set by the World Pet Association's (WPA) Professional Grooming Credentialing (PGC). The PGC is the only standard currently set in the United States that regulates the quality of education and standards in the grooming industry. We are proud to be one of the first schools in the nation to be approved by the PGC.
Topics/News About Dog Grooming
Are you boarding this holiday season? Are you having your pets groomed? Do you know where your neighbor's dogs have been recently? All of these situations can cause concern for susceptibility to the disease commonly known as "kennel cough." Here are a few tidbits you may wish to know prior to speaking to your veterinarian.…
ST LOUIS, MO – January 13, 2020 – With the recent closing of Vatterott College, not far behind Hickey and Sanford Brown, the St. Louis veterinary community is left with an unprecedented demand for qualified pet professionals.  The Academy of Pet Careers hopes to fill this void by opening St. Louis' only Vet Assistant School. …