Speaker Series: Jennifer Bishop-Jenkins
February 10 @ 10:00 am

-

4:00 pm

$35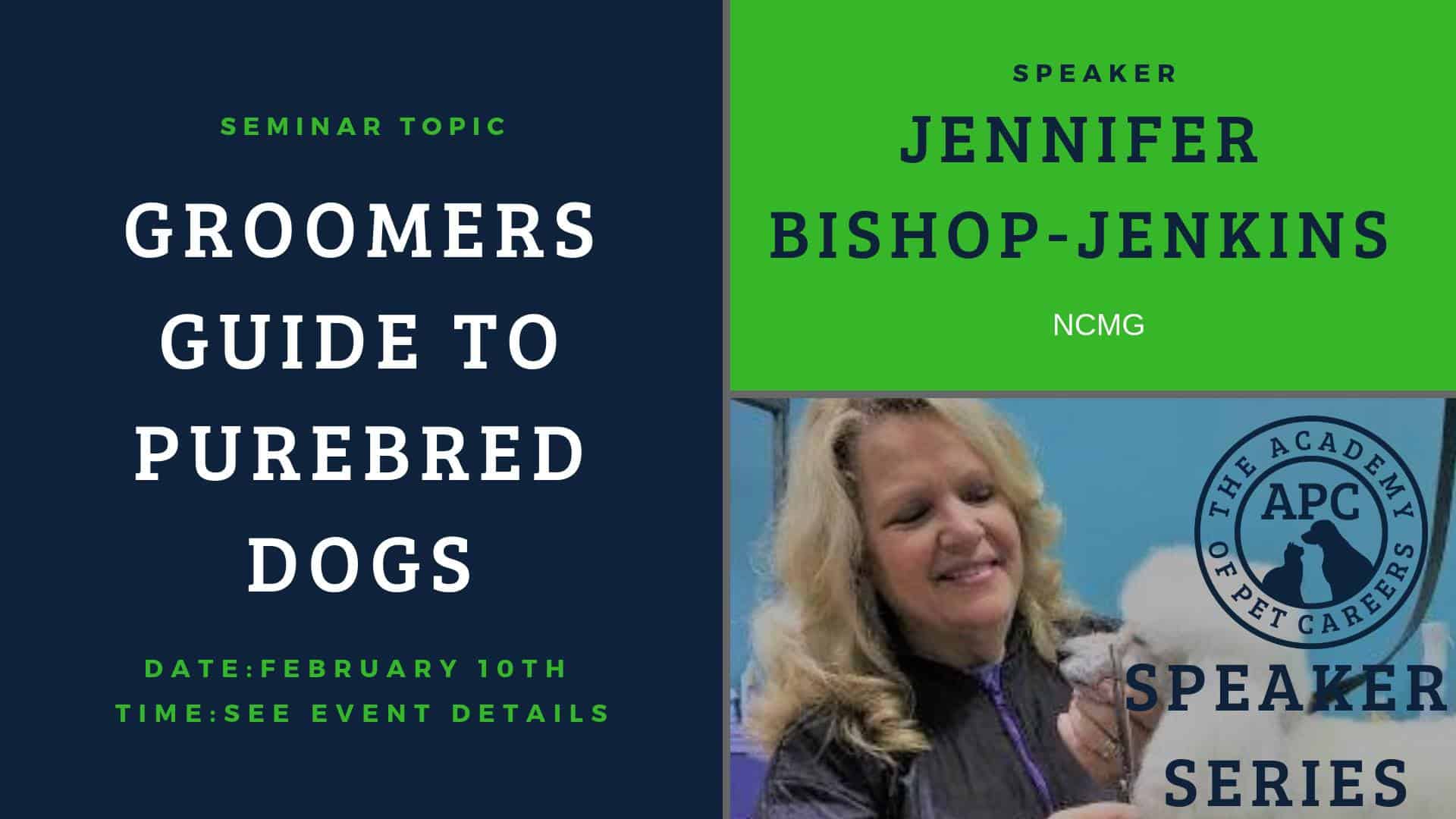 Groomers Guide To Purebred Dogs
This fast paced overview of the world of dogs will provide context and back story for groomers to better understand what we see every day in our canine clients. Recent scientific studies have revolutionized our understanding of dogs and their history, as they have developed into the breeds and groups of breeds, the coat types, the anatomy, the amazing abilities, and the engaging behaviors of dogs we see today. By the end of the day every pet care professional will have a deep understanding of, and powerful evidence for, the importance of the profession.
Part 1: Human/Dog Co-Evolution: Did you know that new scientific evidence indicates that dogs may have domesticated humans, rather than the other way around? 
Both Nature and Nurture combined to create the closest relationship of any two species on this planet between Humans and the Dog. Find out what we learned about breeds of dogs when the canine genome was mapped. What is a "purebred" dog and how does the recent fad of designers cross-breeds fit in to the bigger picture? What do most dogs actually look like and live like world wide? Learn where dogs in all their vast variety of breeds came from and how their evolution and domestication may have been responsible for the very survival of humanity.

Part 2: Groups, Breeds, and Coat Types: Why are dog breeds "grouped" into certain common functions, abilities, and even coat types? How does the origin of the 7 Groups help us better understand their grooming needs? What are the major dog coat types and how should each be groomed correctly? Why was each coat type created? This session will name and categorize over 200 breeds, and also help groomers learn about what dog shows are, how they can be accessed, and how groomers can benefit from them in their local areas.

Part 3: Grooming the Coat Types: What tools, equipment, and grooming procedures are right and wrong for each type of coat? What differences exist between "pet" and "show" grooming for each of the coat types? This hour will systematically lay out correct grooming procedures based on the science about each coat type, and groomers will learn the proper care of the most common and natural dog coast of all – the Double Coat.

Part 4: Hands On Demonstration: Breed representatives from common and important coat types will be demonstrated and will give attendees an opportunity to practice with tools and techniques appropriate for that breed type.
About Jennifer Bishop-Jenkins
Jennifer Bishop-Jenkins, ICMG, is the Owner/Master Groomer at Love Fur Dogs in Glencoe, IL. Named by the Chicago Tribune as the "Best Groomer in Chicagoland", Jennifer has been grooming, breeding, and showing various breeds of dogs and cars for four decades. She appeared on Season Three of the national Hulu Television Series
SMALL BUSINESS REVOLUTION
  as a Grooming Expert. Jennifer has authored several published articles on various grooming issues, writes an award-winning blog at
www.lovefurdogs.com
, is Founder and President of the Illinois Professional Pet Groomers Association, and is one of the first generation of "CMGs" beginning back in the 1980's.
But Jennifer is first and foremost a Teacher with an engaging speaking style who spent most of her career as a professional educator in high school and college classrooms teaching in History and the Social Sciences. Dogs are now her full time retirement activity. Jennifer and her husband Bill are also nationally prominent victim advocates, and loved the fun they has showing their Grand Champion Miniature Poodle "Bowie".
---
Purchase tickets through the link below or call us at (636)489-5356 to pay over the phone!
Related Events