Become a Service Dog Trainer in Just 5 Months
If you have a passion for animals and would like to help your community, The Academy of Pet Careers has the perfect program to help you become a service dog trainer. We've been helping people find careers in dog training for over 30 years. Our most popular program is our Specialized Dog Trainer Program.
This comprehensive program begins with learning basic obedience and pet skills. Once mastered, students will do a 4 week deep dive into the world of service dog training, followed by another 4 weeks of dog sport training. Graduates of this program will have the knowledge and experience to seek employment as a service dog trainer or to start their own business helping people with disabilities.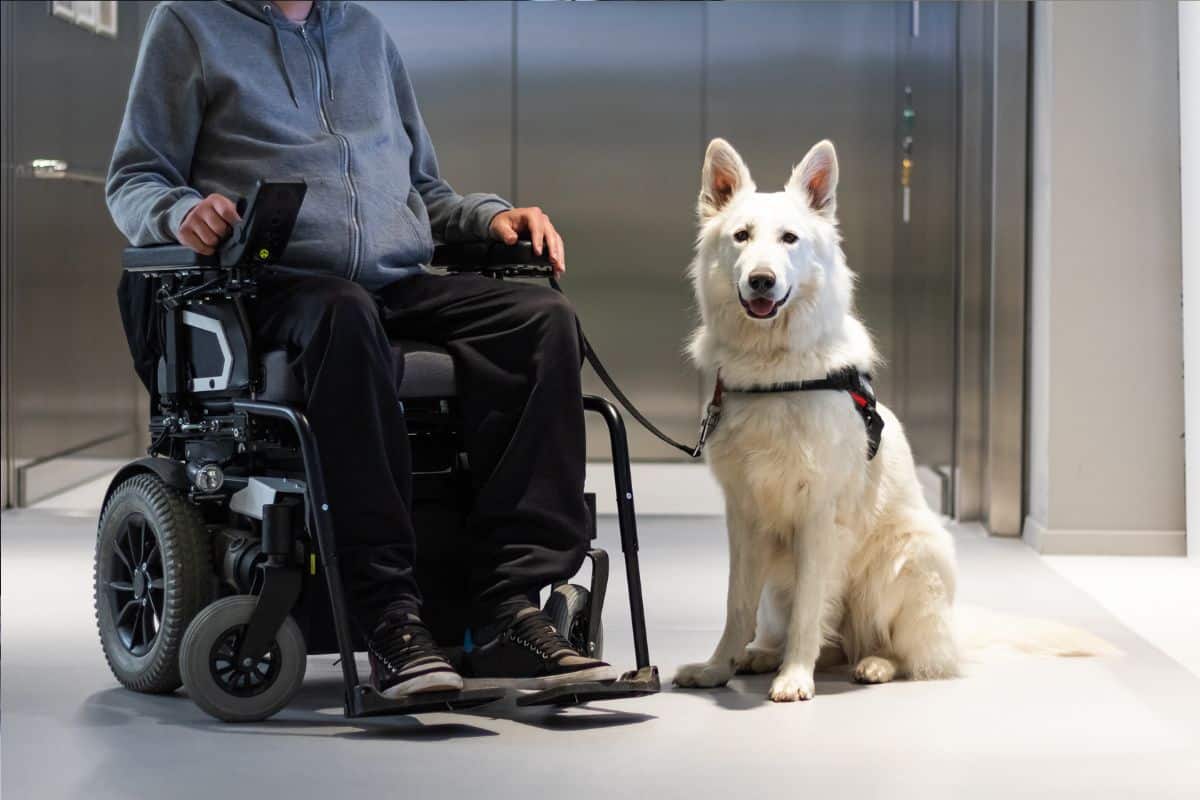 Learn The Following Service Dog Training Skills
Students in our Specialized Training Program will learn receive the following education and skills to prepare them for a career in service dog training:
Skills
Retrieving Objects
Heeling with Wheelchair
Object targets (pressing buttons and flipping switches)
Service dog stairs
Opening and shutting doors
Proximity alerting (calling for help)
Alerting on cue
And more...
Concepts
Service vs. therapy vs. emotional support animals
Service dog laws and restrictions
Dog selection and puppy raising
Vetting service dog candidates
Service dog business models
Fundraising and grant writing
How To Become A Service Dog Trainer
To become a service dog trainer, it takes skill and expertise in basic and advanced obedience. Because service dogs are more than just pets, they must perform their "job" consistently and effectively. This is why the standard must be much higher than basic obedience can achieve.
Students who enter into our Specialized Trainer Program, must pass all of the skills required in our Professional Trainer Program. They must show that they have a knowledge of the fundamentals before they can advance into more advanced training skills.
What Is A Service Dog?
According to the Americans with Disabilities Act (ADA), dogs are the only species that can be a service animal. The official definition says a service dog is, "any guide dog, signal dog, or other dog that has been trained to provide assistance to an individual with a disability."
In other words, it is not simply a pet that provides comfort to it's owner. It's also not just a well behaved, well trained dog that is polite in public. A service dog has been trained to a high standard to perform specific skills. Such skills allow people with mental or physical disabilities to live more independent lives.
Check out our Service Dog FAQs or learn about the 10 Types of Service Dogs!
How to Get a Service Dog
Getting a service dog involves a series of well-defined steps (step-by-step guide), starting with a thorough assessment of your needs. Consult your healthcare provider to determine if a service dog could aid in improving your quality of life. After this initial step, you'll need to understand the legal definitions and protections that apply to service dogs under laws like the Americans with Disabilities Act (ADA). Once you're clear on the regulations, you'll move on to the financial considerations, choosing the right type of dog, and finally, finding a reputable organization or trainer for service dog training and certification.
It's a comprehensive process, but each stage is crucial to ensure that the dog you get is well-suited to your needs and properly trained. Once your service dog is trained and certified, you'll need to prepare your home for their arrival and acquaint yourself with the guidelines for public interaction and travel with your new companion. This multi-step approach ensures not only that you get a service dog capable of assisting with your specific needs but also that you're fully prepared to integrate them into your life.