100+ Dog Grooming Business Name Ideas for 2024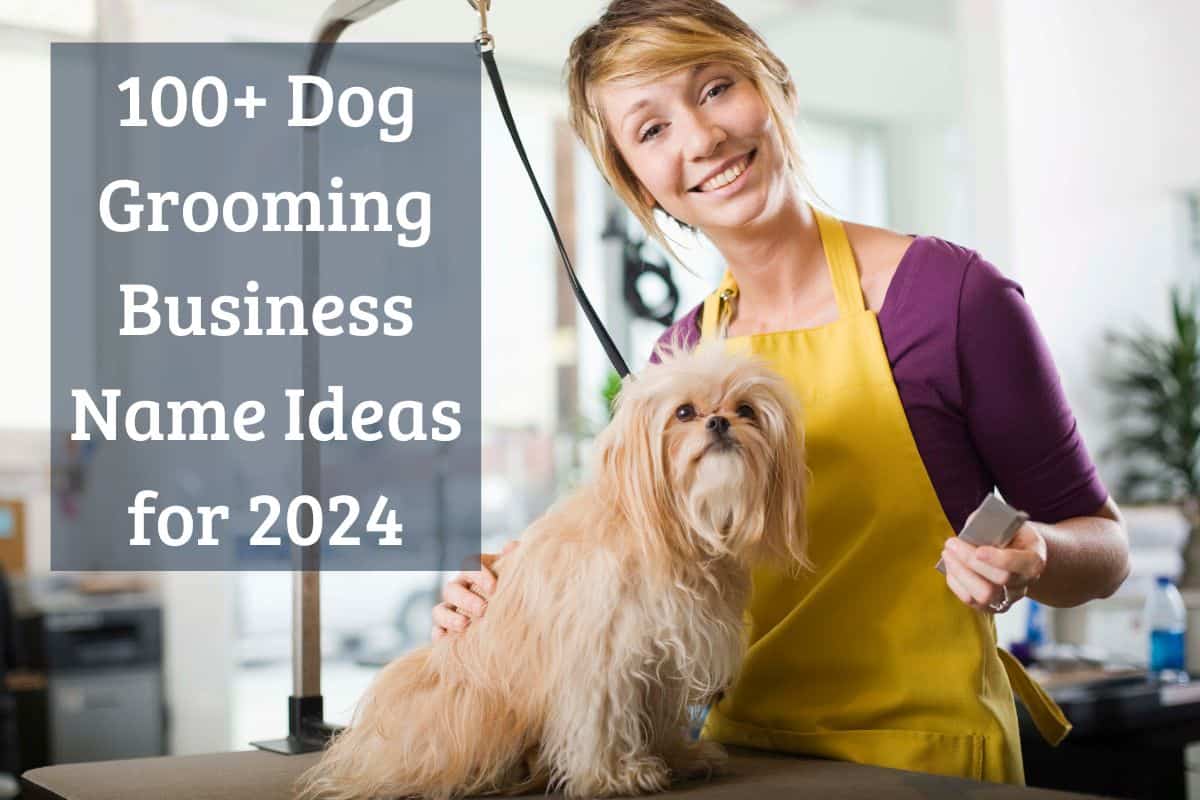 When starting a dog grooming business, choosing the perfect name is a crucial step in setting the tone for your brand and attracting your target clientele. The name you select can be a powerful tool in defining your business identity and leaving a lasting impression on pet owners. As the old adage goes, "First impressions are everything," and your business name is often the very first thing potential customers encounter. Therefore, it's essential to choose a name that not only represents the essence of your grooming services but also resonates with pet owners.
In this list, we've curated a wide array of dog grooming business names, organized into various styles and themes, to help you find the ideal name for your venture. Additionally, we'll explore the significance of factors like your target audience, services, and brand identity, all of which should influence your final decision. So, let's embark on the journey of finding the name that perfectly encapsulates your dog grooming business and sets you on the path to success.
Elegant and Sophisticated
Names falling under this style exude an air of class, luxury, and sophistication. They are well-suited for businesses targeting an upscale clientele that seeks premium grooming services and an opulent experience for their pets.
Posh Paws Pet Spa
Canine Couture Grooming
The Gilded Groomer
Luxe Fur Lounge
Opulent Tails Grooming
Haute Hounds Salon
Elite Canine Coiffeurs
Regal Ruffs & Tuffs
Dapper Dogs & Divas
Aristocats Dog Spa
Playful and Whimsical
This style comprises fun and lively names that appeal to pet owners seeking a cheerful and enjoyable grooming experience for their furry companions. These names create a light-hearted and pleasant atmosphere for both pets and their owners.
Bark 'n Bubble Bath
Wiggles & Wags Grooming
Doggy Doodle Doo
Paw-ty Pooch Pampering
Fuzzy Fandango
The Waggin' Wash
Pup Primp Palace
Tails 'n Tangles
BowWow Beauty Bungalow
Furr-Ever Fabulous
Nature-Inspired
Drawing inspiration from the beauty of the natural world, these names are perfect for businesses that cater to pet owners with an affinity for the outdoors and environmental consciousness. They are particularly fitting for businesses located in areas with natural beauty or a strong environmental focus.
Bark & Bloom Grooming
Earthy Paws Pet Spa
Petal & Paw Pampering
Wildwood Wags
Grooming Greenery
Canine Cascades Coiffeur
Barkside Oasis
Rustic Tails Retreat
Groomed in the Glen
Willow Wags Salon
Vintage and Classic
These names evoke a sense of timeless elegance and tradition. They attract clients who appreciate the charm of classic and refined grooming techniques and aesthetics.
Canine Clippers Classics
Groomer's Guild
Top Hat Tails & Co.
The Posh Poodle Parlor
Grooming Graces
Retro Rovers Spa
Timeless Tails Grooming
Classic Canine Cuts
The Vintage Vanity
The Doggie Dandy Salon
Punny and Fun
Incorporating creativity and humor, this style features names that are witty and playful, often based on dog-related puns. They help businesses stand out with a playful and memorable brand.
Fur-tastic Groomers
Doggy Do's & Don'ts
Bark to the Future
The Grrroomsmen
Purr-fect Paws Grooming
Wiggle-Waggle Wash
Shear Delight Grooming
The Grooming Gazette
Fur-Ever Friends Spa
Woofing Wonders Grooming
Location-Themed
Names in this style incorporate elements of the local area, whether it's a beach, city, mountains, or other geographical features. They appeal to local clientele and tourists, emphasizing a connection to the community.
Beachy Barks & Bubbles
City Bark & Groom
Mountain Mutt Makeover
Lakeside Luxury Grooming
Desert Doggie Delights
Bay Breezes Bark Boutique
Forest Fido Fix
Sunset Strip Struts
Urban Tail Tidying
Countryside Canine Cuts
Cute and Quirky
Adorable and charming names characterize this style, catering to pet owners who seek a warm and endearing grooming experience. They create a welcoming and affectionate atmosphere that pet owners and pets both appreciate.
Fuzzy Fandango
Puppy Love Primping
Bubbles 'n Barks Boutique
Tail Waggin' Time
Cuddles & Combings
The Barktique
Wiggle & Whisker Wash
The Paw-sitive Place
The Cozy Canine Coif
Woof & Whisker Wonders
Professional and No-Nonsense
Names in this style convey expertise, professionalism, and precision. They are apt for businesses that prioritize quality and professionalism in their pet grooming services.
The Canine Clipper
Doggy Detailers
Grooming by Design
Purr-fectly Groomed
The Canine Coiffeur
Top Dog Grooming Studio
Precision Pooch Primping
Pro Pet Polishers
The Grooming Authority
Elite Pet Elegance
Modern and Trendy
Reflecting contemporary and stylish grooming practices, these names are perfect for businesses aiming to attract pet owners who want their pets to have a modern, on-trend appearance.
Fetch & Fresh Grooming
Pet Chic Studio
Tail Trends Groomers
Urban Paw Spa
Mod Mutt Makeovers
The Paw-fect Groom
Sleek & Chic Pup Parlour
Trendy Tails & Tips
The Grooming Edge
Modern Muzzles Makeover
Personalized and Pet-Centric
Names that incorporate a pet's name or the concept of personalization create a strong connection with individual pets. They are particularly fitting for businesses that want to emphasize the personalized care and attention each pet receives.
Bella's Grooming Haven
Charlie's Canine Care
Daisy's Delightful Do's
Max's Mane Masters
Paws & Whiskers Groomers
Rocky's Regal Ruffs
Lily's Luxe Lounge
Tucker's Tailored Trim
Bella's BowWow Boutique
Oliver's Opulent Oasis
When choosing a naming style for a dog grooming business, it's crucial to consider the target audience, the type of services provided, and the overall atmosphere you want to create in your salon. Your business name should reflect your unique identity and values as a pet grooming service. Feel free to mix and match or modify these names to suit your dog grooming business's style and personality.
Frequently Asked Questions
The choice of a business name is incredibly important for a dog grooming salon. It's the first impression you make on potential customers and plays a significant role in establishing your brand identity. A well-thought-out name can help attract the right clientele and convey the essence of your services and style.
The style of your business name depends on your target audience and the image you want to project. Creative names can be memorable and eye-catching, while straightforward names can convey professionalism. Consider your business's unique identity and choose a name that aligns with it.
Using your own name for your business can add a personal touch and authenticity. However, it might limit your future options if you decide to expand or sell the business. Make sure your name is easily recognizable and relevant to dog grooming.
To check if your chosen name is available, conduct a thorough search online, including domain name availability and social media handles. Additionally, consult with a legal professional or conduct a trademark search to ensure your name doesn't infringe on existing trademarks.
Incorporating your location in the name can be beneficial if you want to establish a strong local presence. It can help potential clients find you more easily. However, consider whether you plan to expand beyond your current area, as a location-specific name might limit your growth potential.
Author - Joseph Schifano
Joseph Schifano is the owner and President of The Academy of Pet Careers. With over 20 years of experience working in the pet field, managing large scale pet care businesses, he has experience in every facet of the industry. Joseph's focus is primarily on the business of pet care but his passion is in understanding animal behavior how a dog's brain works so we can improve the care we provide as pet professionals. He is a huge advocate for Pet Empowerment and Force Free training methods. Read more in Joseph's full bio.