How to Start a Dog Grooming Business: 10 Step Guide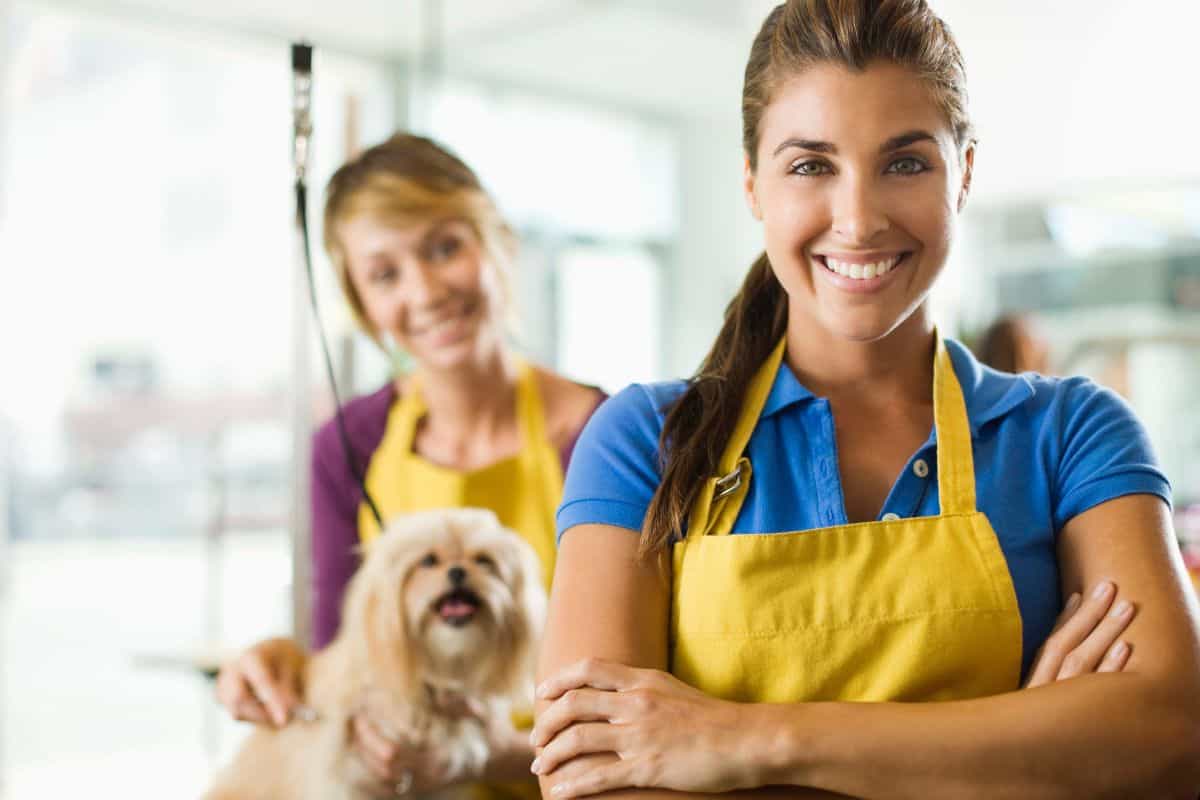 If you're wondering how to start a dog grooming business and transform your passion for pets into a thriving venture, you've come to the right place. In this comprehensive guide, we'll navigate the essential steps to kickstart your dream business with tails wagging! The demand for professional dog grooming services is on the rise, offering a golden opportunity for those with a knack for grooming and a heart for dogs.
In this guide, we'll explore the path to launching a successful dog grooming business, covering everything from education and business plans to licensing, insurance, and marketing. By the end of this article, you'll be well-prepared to embark on a rewarding career in dog grooming. So, let's get started!
Step 1: Research and Education
Education is the key to success in the dog grooming industry. Before diving into the world of dog grooming, it's crucial to gain a strong foundation in this field. Educating yourself will not only improve your grooming skills but also build your confidence and reputation as a professional groomer.
The Importance of Education
To begin, consider enrolling in a reputable dog grooming program. These programs provide hands-on training and cover essential topics such as breed-specific grooming techniques, handling difficult dogs, and understanding skin and coat health. The Academy of Pet Careers is a well-regarded institution offering comprehensive dog grooming courses.
Resources for Dog Grooming Education
Seek out local or online courses that cater to your specific needs. Additionally, many books, videos, and online resources can supplement your knowledge and skills. Check out our recommended reading materials for any pet profession.
Ongoing Learning
Stay updated with the latest industry trends and techniques by attending workshops, seminars, and conferences. The dog grooming industry is constantly evolving, and continuing education will keep you competitive.
You can find reputable dog grooming courses at institutions like The Academy of Pet Careers. Additionally, check local community colleges, vocational schools, or online platforms that offer certified programs.
Step 2: Creating a Business Plan
Chart your course with a well-structured business plan. Having a business plan in the early stages will help you flush out your vision, develop a well-developed brand, and keep on track when things get hard.
Key Components of a Dog Grooming Business Plan
Your business plan should include:
Market analysis: Identify your target audience and assess your competition.
Financial projections: Estimate startup and operational costs, revenue projections, and break-even points.
Marketing strategy: Detail how you plan to promote your business, attract clients, and build your brand.
Financial Projections and Budgeting
To develop accurate financial projections, consider factors like initial equipment costs, lease or rent expenses, marketing and advertising costs, and projected revenue based on service pricing. It's okay if you don't have all the answers right away. This is a starting point to get you as close as possible to a benchmark.
Step 3: Choosing a Business Structure
Select the right legal structure for your business. The legal structure of your dog grooming business is an important decision. Different structures come with varying legal, tax, and liability implications.
Different Business Structures
It is important that you speak with a licensed attorney for advice on the best business structure for you and your grooming business. Each business will have different goals that will determine the best path to take. Below is a broad overview of the options to consider:
Sole Proprietorship: This is the simplest structure, where you and your business are one entity. You have full control but also full personal liability.
Limited Liability Company (LLC): Offers personal liability protection while allowing flexibility in management.
Corporation: Provides strong liability protection but comes with more regulatory requirements.
Legal and Tax Considerations
Consult a legal professional or a business consultant to understand the specific legal and tax obligations associated with your chosen structure. Remember that your structure can impact your ability to secure loans and investments.
Step 4: Legal Requirements
Meet the legal prerequisites to operate your dog grooming business. Although there are no licensing requirements to be a dog groomer, there may be legal requirements to operate a grooming salon.
Acquiring the Necessary Licenses and Permits
To operate a dog grooming business legally, you may need licenses or permits from your local government. Regulations can vary by location, so research your specific requirements carefully. Most commonly, if you plan to house more than a handful of dogs on site, you will be required to hold a kennel license. Each area has different requirements for this.
Understanding Zoning and Local Regulations
Check local zoning ordinances to ensure your chosen location is appropriately zoned for your business type. Zoning laws can impact whether you can operate from your desired location.
Insurance for Your Dog Grooming Business
It's essential to obtain insurance coverage to protect your business and its assets. Liability insurance is crucial, as it can cover incidents where a dog gets injured during grooming or bites a staff member. For brick-and-mortar salons you may also want building insurance. For advice on how to best protect yourself, it is important to speak with a licensed insurance agent that can walk you through each type of insurance and the coverage.
Licensing requirements vary by location, so consult your local government for specific permits. Insurance-wise, general liability insurance and professional liability insurance (also known as errors and omissions insurance) are highly recommended for dog grooming businesses.
Step 5: Setting Up Your Workspace
Create a comfortable, safe, and functional grooming space. Whether grooming out of your home, a mobile van, or a grooming salon, it is important that you create a safe and welcoming environment for both your clients and their pets.
Location Considerations
Storefront vs. Mobile Grooming: Decide whether you want a traditional brick-and-mortar location or prefer a mobile grooming business, where you visit clients' homes. Mobile grooming can be a cost-effective option, but it requires a different set of equipment and considerations.
Designing a Safe and Functional Grooming Area
Ensure your grooming area is equipped with the necessary tools, including grooming tables, clippers, shears, and cleaning supplies. Safety measures should be in place to protect both the dogs and the groomers.
Equipment and Supplies for Dog Grooming
Invest in high-quality grooming tools. Look for trusted brands such as Andis, Wahl, and Love Groomers for grooming equipment. Stock up on shampoos, conditioners, brushes, and grooming apparel.
Step 6: Branding and Marketing
Establish a strong brand and attract clients. There are a hundred ways to market your business, but each starts with developing a consistent brand that conveys who you are and what makes you different. From your business name and logo to the decorations in your salon, you can build an identity that is memorable.
Choosing a Unique Dog Grooming Business Name
Your business name should be memorable, reflect your brand identity, and ideally include keywords like "dog grooming" to enhance your online presence. Check out our list of grooming business names to spark ideas.
Building a Professional Brand Identity
Invest in a professional logo, business cards, and a website. Your branding should convey trustworthiness and expertise. The pet industry is built on trust, so brand consistency is important, and clients want to see your social proof. Don't hesitate to put your dog grooming credentials or reviews on your business cards and website.
Marketing Strategies
Utilize social media, online directories, and local advertising to attract clients. There are countless websites to get your brand in front of customers. For local service businesses like grooming salons, consider investing time or money in Local SEO. This form of marketing will attract organic leads to your business without the big price tag.
Step 7: Customer Service and Safety
Ensure a positive customer experience and prioritize safety. Many grooming businesses don't need to pay for new clients because they can sustain themselves through client referrals. Providing a quality service and asking for referrals is an easy way to get loyal, repeat customers.
Providing Exceptional Customer Service
Outstanding customer service can set you apart from the competition. Be attentive, communicative, and responsive to your clients' needs and concerns. Being a dog groomer isn't just about pets. A successful grooming business needs to cater to the pet parents and make sure their needs are met.
Ensuring the Safety and Well-being of Dogs
Dogs are like family to their owners, and they entrust you with their care. Handle dogs with care, use appropriate restraint techniques, and be vigilant about their safety at all times. The quality of care you provide will correlate directly to customer satisfaction.
Handling Difficult Situations and Customer Complaints
Be prepared to address challenges, such as handling aggressive or anxious dogs. Always prioritize the dog's well-being while managing the situation professionally. You may have to educate your clients and help them understand why the grooming experience isn't for every dog. It is important to be firm in your beliefs but also be understanding of your clients.
Invest in continuous education to stay updated on industry trends.
Prioritize safety and the well-being of the dogs in your care.
Build a strong online presence and engage with clients on social media.
Offer exceptional customer service to build trust and loyalty.
Step 8: Hiring and Training Staff
Build a reliable team to support your business. Not all pet businesses will involve hiring employees, but those who wish to grow past a one-groomer team should consider this when starting their business. Leveraging the work of others can increase your income potential and grow you brand.
The Importance of Skilled and Reliable Staff
As your business grows, you may need to hire additional groomers or assistants. Ensure they share your commitment to quality grooming and dog safety. There is a wide range of quality in the grooming industry, and you want to make sure you hire teammates that match your standard of care and vision.
The Hiring Process
Develop a clear hiring process that includes interviews, reference checks, and, if applicable, a demonstration of grooming skills. Job listing sites such as Indeed.com are great resources to find and hire staff but sometimes its easier to go to the source. The Academy of Pet Careers, as an example, can connect grooming businesses with qualified graduates. Check out how to become a preferred hiring partner for the APC.
Creating a Positive Work Environment
Fostering a positive and respectful work environment is essential for staff retention and your business's overall success. Acknowledge and reward hard work and dedication. Since most groomers work on commission, you will already have a system that rewards production, but consider other incentives to motivate your team and build a positive work culture. Figure out what is important to you and your team and use that as a motivator. If education is important, maybe you could offer CE credits for your groomers to continue their education.
Incentives don't have to be monetary. Sometimes just recognition is enough to keep employees happy. Consider recognizing an Employee of the Month, or giving your top groomers first pick of dogs, or better hours. The options are limitless.
Step 9: Managing Finances
Keep your finances in check to ensure the sustainability of your business. The worst thing you can do is focus on grooming and ignore your finances. Having an appreciation for labor ratios, equipment costs, and revenue goals will prevent your business from making avoidable financial mistakes. Whether you manage your own finances or hire a bookkeeper, you should review your revenues and expenses each month to make sure the business is making a profit.
Bookkeeping and Financial Management
Properly manage your finances by keeping detailed records of all expenses and income. This will be essential for tax purposes and monitoring the health of your business. Keep track of all of your receipts and make sure you have software that can track money coming in and going out. There are many grooming software that can integrate with accounting software to make this process easier.
Tax Considerations
Consult with a tax professional to understand the specific tax deductions and obligations for your dog grooming business. This can help you minimize your tax liability while staying compliant. Considering how you collect and report tips is important for all grooming businesses.
Step 10: Expanding Your Business
Think about scaling your business to reach new heights. Some groomers may hit their goals and are satisfied with the current state of their business, but others have greater ambitions. Whether you plan to add more groomers, offer additional services, or build more locations, there are plenty of ways to expand your business.
Scaling Your Dog Grooming Business
Once your business is thriving, consider expanding by offering additional services or opening more locations. Find services that supplement your grooming business. Common offerings include dog daycare and lodging, or mobile services.
Considering Franchising or Purchasing an Existing Dog Grooming Business for Sale
Franchising can be a path to rapid expansion, while buying an existing business can give you a head start with an established customer base. Once you've found success with one location, expanding to more locations can create efficiencies that don't exist in a single-location business. For example, marketing efforts will be more cost effective, staff can transfer from one location to another when there are staffing shortages, and inbound calls can be routed to a single location.
Online business-for-sale marketplaces like BizBuySell and BusinessBroker often list dog grooming businesses for sale. Consider working with a business broker who specializes in pet-related businesses for personalized guidance.
As you conclude your journey to becoming a successful dog groomer and entrepreneur, remember that every step you take, from your initial education to your marketing efforts and client relationships, plays a crucial role in your business's success. By continually honing your skills, staying compliant with legal requirements, and prioritizing safety and customer service, you can create a thriving dog grooming business.
We hope this guide has equipped you with the knowledge and inspiration you need to start your dog grooming business. Embrace your passion, sharpen your skills, and embark on a rewarding journey where you make tails wag and owners smile.
Author - Joseph Schifano
Joseph Schifano is the owner and President of The Academy of Pet Careers. With over 20 years of experience working in the pet field, managing large scale pet care businesses, he has experience in every facet of the industry. Joseph's focus is primarily on the business of pet care but his passion is in understanding animal behavior how a dog's brain works so we can improve the care we provide as pet professionals. He is a huge advocate for Pet Empowerment and Force Free training methods. Read more in Joseph's full bio.